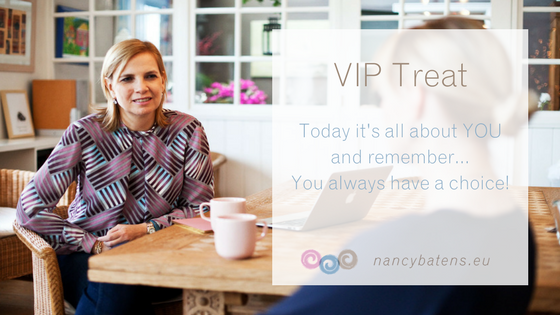 You are a busy professional. You don't necessarily have the time to attend training courses. They might take too long and you already know a lot.
However, every once in a while there are some issues you might struggle with. And you do want to work on them, because you believe in self-development. So you are looking for a way that suits your needs: to the point, tailor made and very practical.
In this case the VIP treat might be just what you need!
Which issues can be addressed?
You have done the Firstbeat Lifestyle Assessment and want to take serious action NOW
You have been very busy juggling things at work and at home and you want to avoid that stress will take it's toll.
Pressure at work has been increasing and you want to make sure you face it as efficiently as possible.
There is this one type of situation where you find it difficult to communicate clearly and effectively: giving negative feedback to co-workers, saying no (in general or especially to your hierarchy), …
You work hard, and you're coping, however… sometimes you wonder if this is it…
You are aware of some beliefs that are holding you back and you want to tackle them.
… (check with me if you want to work on something else)
It is, of course, important to be realistic on what can be achieved in 0,5 day. When in doubt, please contact me.
What can you expect?
Before we meet, you'll receive a preliminary document. I will ask you some questions. These will enable you to get very clear on your objectives. I will better understand your needs and I might send you some extra information (if necessary).
On the day itself, we work together for 3 hours (if we meet 'live', a nice lunch is included)
Because of the preliminary work, we can dive right into the issue at hand. We further analyse the problem, identify possible limiting beliefs and then start looking for solutions. We practice through exercises and/or role-plays. And when you leave you feel prepared to address whatever needs to be tackled!
Within 1 month after our session, we meet again for a virtual coaching session of 1 hour.
Why work with me?
I've been working as a trainer and coach for 20 years now. I have helped thousands of people to work on themselves and find solutions to their problems, both in Belgium as abroad, in the private and public sector.
I have several degrees and certificates (training, coaching, NLP, The Work, Mindfulness, ACT, Stress and burnout coach…) which have provided me with a big toolbox. This enables me to pick and choose what suits you best.
I have worked as a professional myself, both as an employee and as a free-lancer. There are not a lot of situations I haven't struggled with myself at some point or other. I can understand what you are going through.
Ready to go for it? Remember: you always have a choice!
Do you want to know if this is something for you? Hop on a clarity call!
PS: We can also speak Dutch! ;-D