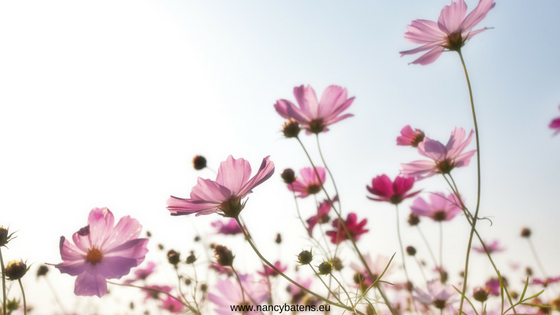 In Belgium, the 'summer holidays' have officially started.
One could say that this is also the start of my 'slow season': companies tend to organise less training because their staff leave on holidays. So: perfect time for a break.
However, somewhere along the line it became the time where I would work on my own business: create products, organise challenges, attend courses myself…  So… basically: I would not stop but just go on.  There might be a short holiday (only a short one, because there is all this work to be done) … But no real break.
This year I would like to do something else. I want to take a summer sabbatical.
Recently I've noticed some pressure, some resistance, quite a lot of 'I should…', 'I have to…', …  And I don't like it.
If you have been following me for a while, you know I belief 'you always have a choice' (hence the hashtag 'YAHAC').
However, to make a choice, you need to have options. You need to know what you really really want. And that's exactly where I am not a 100% sure of at the moment.So… I've decided I don't have to make a choice yet (which is also making a choice…)
And I'm going to give myself a real break.
I want things to be fun again. I want to get my 'mojo' back.
And how am I going to do that?
This summer is about me and not about my business

. By taking care of myself first, I can be there more for my business. (By the way: the universe is challenging me: many of my colleagues have free (!) summer schools starting as of today and many of them look very interesting. But… I'm resisting the FOMO (=fear of missing out), this summer is about ME!)

Less doing, more being

. Not too many plans. Checking in with myself on a regular basis to find out what would be the right thing to do…

'Fun' is going to be a focus

. Often 'fun' is scheduled in, whenever there is a slot left. No: now the fun thing is an intention and we'll see about the rest…
For the record: this 'fun' does not necessarily mean planning a lot of activities. I started this weekend: some quality time with nieces and nephew on Saturday and … some sunbathing yesterday (I don't always 'allow' myself to do that – there is always something else to do…).

As long as the 'activity' charges my batteries, that's ok!
I truly believe that by doing the above, I will be feeding my soul.
I will gain clarity on what I really really want… and I will be able to make the right choice(s).
What do you think? Are you up for this?
Don't worry: you don't necessarily have to drastically change your life.
We all have 24 hours in a day, we can all make choices on how we spend (at least some of) that time…
I will not be 'on holiday' for 2 full months either, but… I will simplify as much as I can to 'feel' on holiday as much as possible.
Each Monday I will post my 'intention of the week' on social media. And I will let you know how it goes. Feel free to join me: a little accountability usually doesn't hurt…
Have a great summer!
PS: For those who are getting a bit worried: I'm not depressed or anything. ;-D  I'm fine! I just believe I could be even better!
If you liked the above, you can sign up for more 'Tips & Tricks' by signing-up here.
Looking forward to hearing from you!