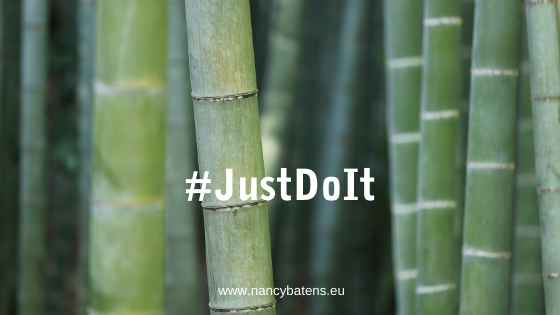 Happy new year!
I hope you had a great start. And let's face it, it's not just a new year but a new decade. I do find it does add a bit of excitement to it.
This year I started by looking back at 2019 (you  might have noticed my post on social media) to then determine what I would like to achieve in 2020.
I've also chosen a new 'word'. I've been doing this for a couple of years now. How do I choose the word and why do I do this? Let me explain below using some of my previous words.
SLOW
For 2016 I had chosen 'SLOW'.
After a (too) hectic period I wanted to remind myself to slow down a bit. Apart from the literal meaning, SLOW is also an abbreviation that is used in mindfulness: Stop – Land – Open – Wise action. I definitely wanted more 'wise actions'.
Therefore I put 'SLOW' on the screen of my mobile phone (still there…) and … a friend gave me the letters in the form of magnets, which are stuck to my fridge. Because I kept on 'seeing' the word, it made it easier to react and 'slow down' whenever necessary. So basically, these words serve as reminders or anchors.
And I have to say it still works: whenever I'm stressed but also when I'm not and I have some time to spare (train, queue…), I think about SLOW and I apply it.
SIMPLIFY
'SIMPLIFY' was last year's word. As a trainer I like to be 'complete' and … I choose to go 'deep'. That's good AND it can have a downside: the idea or concept can get too big and too complicated. And then nothing happens anymore. Thats why I wanted to 'simplify', mostly my offer. How can I do things in a way that is the least complicated for my clients AND myself?  Somehow easy for my clients always became complicated for myself… I think I've made some progress here and this will have consequences for my offer.
JUST DO IT
The slogan for this year. I know… it's not really a word but… let's not make a fuss about it, ok?
During the past couple of months, I got a bit stuck in my head. I needed to take some decisions, but they depended on things that were not under my control. I also got stuck in the 'simplifying' which became too much of a theoretical exercise and nothing got done anymore. And that was stressful for me. Not ideal for somebody who offers stress management trainings…  So… 'Just do it' came to me. I wanted to start 'acting' again, after all the 'thinking'. So I did and I feel a lot better already. And I want to continue. For now, I don' t have a visual 'anchor' yet. I will start using it as a hashtag, next to #YAHAC. And I might buy something from the known sports brand… ;-D
And do you know what the best thing is? Even though I choose a new word, the other ones stay there in the background… I do want to take action, but in a 'SLOW' and 'SIMPLE' way ;-D
Do you have a word? Or did you get inspired by this post? Let me know by answering this mail or by putting a comment on social media.
Make 2020 count!