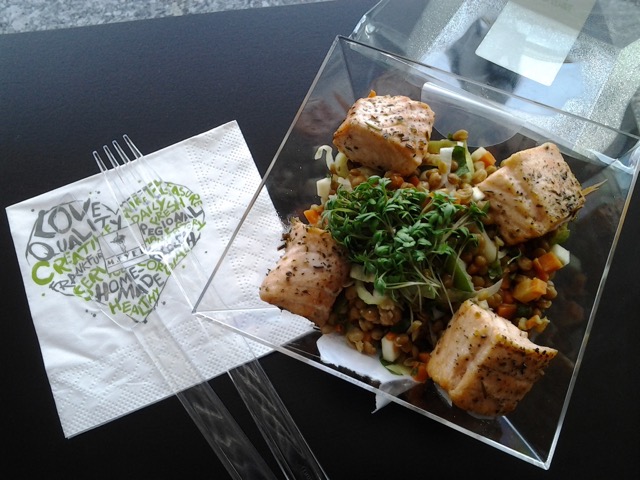 Imagine going to a new restaurant… Will you choose a dish you've never tasted before or will you go for something you know? Or do you tend to go to the same restaurant where you will always order the very same thing? And when you do choose the same thing: is it because you really love it or because there won't be any negative surprises?
Don't worry these are no tricky questions… There is no right or wrong.
I like to think you always have a choice, but… that shouldn't come as a surprise, of course!
Did you know that many people don't like change? They like the familiarity of things, people and realities they know. Obviously this is not always possible. Sometimes changes are imposed on us (reorganisations, illnesses, relationships going wrong, losing a job, …) and sometimes we choose to change. And this can be stressful! There are many theories on change management and I am not going to go in detail on this now. However, in one of the courses I give, the exercise is to also be aware of what remains the same instead of only focussing on what actually changes.
For example: a reorganisation at work:
What changes: new procedures, new working groups, new direct boss
What remains the same: I keep on doing the same tasks, I keep on working with 2 of my favourite colleagues, I will still be in the same building which is very close to the station (unlike some of my former colleagues…), etc…
So basically, try to put things into perspective by finding a 'balance' between what's new and what remains the same so you don't get overwhelmed.
And this brings us to choosing the known or the unknown, or in other words: choosing routine or going for something new.
Recently somebody discovered a pattern I have when travelling (for business, it doesn't apply when I travel for fun). I travel a lot and there are periods that I am in a different hotel every week. The travelling itself can be quite stressful: very long days, having to rush for planes, having to get familiar with the local public transport system… To compensate I find myself booking the same hotel, or going to the same place to eat, … It's as if I am creating a 'local' routine, which will balance out everything that is NOT the same.
For instance: this week I was in Luxembourg but it was only for one day (and night). I went to my 'usual' hotel that I like because I can walk (30 minutes) to a shopping mall where there is a restaurant with healthy fast food. I will also visit some of the shops. This routine satisfies some of my needs:
The hotel room is quiet, clean and has a good bed and wifi.
The walk helps me to get to my 10.000 steps AND it is pleasant (green environment).
I don't like going to restaurants on my own AND I like to have healthy options, therefore the bio fast food is a perfect option.
When I'm at home, there is little time to go to the shops and so I like to do it when I'm away.
Will my trips to Luxembourg all look like that? No! When I am there for a couple of days, or even a week, I have options: I might go to a movie, meet somebody or … the less 'exciting' option: I will be working in my hotel room.
What is the point I am trying to make? I think it is useful to stretch both capabilities. On the one hand it's good to be able to deal with change without getting stressed while it can also be useful to create a routine to fall back on when a lot is going on already…
This gives you options and … choices… and it makes it easier to manage your stress.
Tomorrow I'm going to Helsinki, where I've chosen the known: I arrive after midnight, I will be tired so I've chosen a hotel close to the airport bus and the training venue.
And… when I work a couple of days from home, I can choose to cook a meal I've never cooked before because within the routine, I want some variety. I will choose the unknown.
Where do you choose routine and where do you prefer variety? I'd like to find out in the comments below. And remember: you always have a choice!
PS: One the photo you see my favourite snack at Frankfurt airport: healthy and delicious!
If you liked the above, you can sign up for more Tips & Tricks here. Looking forward to hearing from you!